Grey County Early Learning Hub Celebrates First Anniversary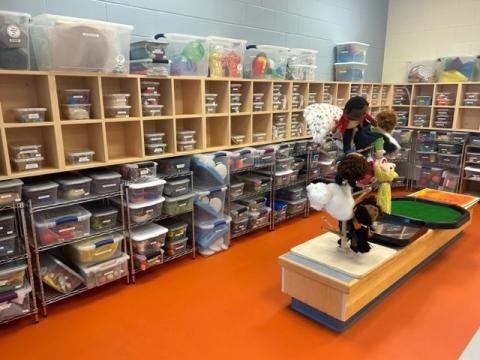 The Grey County Early Learning Hub is celebrating one year supporting licensed child care providers in the region. Located at the Sydenham Campus in Owen Sound, the Early Learning Hub offers many resources including a lending library and professional learning opportunities to support the ongoing professional development of early childhood educators in the community. The Early Learning Hub opened its doors on November 15, 2022.
"In one short year we've already seen tremendous participation in the Early Learning Hub. Educators play a crucial role providing care and helping our youngest learners develop and grow. We're proud to have a place where they can come together, feel supported and gain confidence" said Tara Cockerill, manager of early learning and child care with Grey County.
Free memberships in the learning hub are available to those working in licensed home or centre-based child care, EarlyON Child & Family Centres, special needs resourcing services and authorized recreation programs within Grey County. Student membership is also available to early childhood education students residing in Grey County or attending Georgian College in Owen Sound.
Once enrolled, Early Learning Hub members have access to the lending library which includes toys, children's books and resource materials that can be used within their programs, free of charge. Members also have access to attend professional learning events, gather ideas from other members and Grey County staff are on site to help brainstorm, problem solve and provide suggestions of materials that may work for them based on children's interests.
A recent members' survey showed a high level of satisfaction with the hub with 86% of members likely to recommend the hub to coworkers and giving the hub a 4.3 out of 5 rating for benefit to the early learning community. Feedback from the survey is being used to improve services.
Grey County also offers support to those considering beginning a career in early childhood education. Anyone interested in becoming an early childhood educator or offering licensed childcare can learn more about the rewarding career by visiting www.grey.ca/beanece.  
The Grey County Early Learning Hub is open to members Tuesdays and Thursdays from 11:30 a.m. to 6:30 p.m. More information about the hub can be found online at earlylearninghub.myturn.com/library/, by email to earlylearninghub [at] grey.ca (earlylearninghub[at]grey[dot]ca) or by calling 519-373-1531.
-30-
For media inquiries contact Rob Hatten, communications manager, at rob.hatten [at] grey.ca (rob[dot]hatten[at]grey[dot]ca) or call 519-373-1592.